doing philosophy in the classroom as community activity: a cultural-historical approach
Keywords:
Lipman, Activity Model, Philosophizing
Abstract
One of the most traditional ways to teach philosophy in secondary school is a historical approach", which takes a historicist view of philosophy and uses teaching practice based on teacher-centred lessons and textbook study by students. Only recently a debate on different approaches to teach philosophy is developing, considering the discipline as practical and dialogical activity to be fostered in the classroom. What could mean "doing philosophy" in the classroom from an instructional perspective? What are the premises and constraints which allow the transformation of philosophy from a discipline to a community activity? In this paper a teaching model based on cultural-historical theory is proposed and discussed. The model is composed by three level of specification of the activity, from lower to higher, which correspond to three different analysis plans of the philosophical practice in an instructional context. Each level is composed by seven fundamental dimensions which highlight the meanings, the constraints, and the tools implied and developed in philosophizing as socio-cultural activity. Finally, if and how Philosophy for Children should be considered an activity respondent to the model and its educational aims is discussed.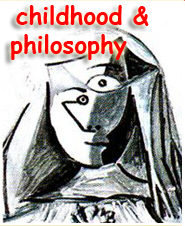 Downloads
How to Cite
santi, marina. (2015). doing philosophy in the classroom as community activity: a cultural-historical approach. Childhood & Philosophy, 10(20), 283–304. Retrieved from https://www.e-publicacoes.uerj.br/childhood/article/view/20680
License
copyright for each article published in childhood & philosophy belongs to its author(s). childhood & philosophy has the right of first publication. permission to reprint any article that appears in childhood & philosophy MUST be obtained in writing from the author(s). in addition to any form of acknowledgement required by the author(s), the following notice must be added to the statement of copyright permission made in the reprint (with the appropriate numbers replacing the ellipses): [Article Title] was originally published in childhood & philosophy, volume ..., number ..., pp. ...-...