child and community of philosophical inquiry
Keywords:
child, citizenship, Community of Philosophical Inquiry
Abstract
It has been asserted in the UN Convention on the Rights of the Child that children's voices should have a place in society and that their views and opinions should be taken into account by policy makers and those others in authority. This paper suggests that children need to be empowered and enabled to become active, participative, political agents within society. Within certain countries – in this instance, those constituting Great Britain – Education for Citizenship is on the Governmental agenda. In order for children to be educated for citizenship, it is argued that they are treated as citizens not in the future, but citizens in the present. Additionally, to further enable younger members of society to partake in the role of citizen it is here suggested that the practice of Community of Philosophical Inquiry be utilised to promote the necessary skills for full participation.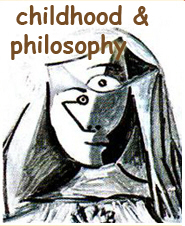 Downloads
How to Cite
cassidy, claire. (2012). child and community of philosophical inquiry. Childhood & Philosophy, 2(4), pp. 345–368. Retrieved from https://www.e-publicacoes.uerj.br/childhood/article/view/20501
License
copyright for each article published in childhood & philosophy belongs to its author(s). childhood & philosophy has the right of first publication. permission to reprint any article that appears in childhood & philosophy MUST be obtained in writing from the author(s). in addition to any form of acknowledgement required by the author(s), the following notice must be added to the statement of copyright permission made in the reprint (with the appropriate numbers replacing the ellipses): [Article Title] was originally published in childhood & philosophy, volume ..., number ..., pp. ...-...