Post-Media poetics in a digital composite: The Oriental Dancer
Palavras-chave:
Software, remixability, virtual-actual, poetics of potentiality.
Resumo
The article addresses deep remixability in dance, film, software, media, and metafiction in The oriental dancer, a digital project composited by Sadim Mansour-Rondeau. The objective is to contest former anthropocentric constructs pertaining to dance and aesthetics. Attention is given to technical inventiveness and creativity of the digital creations, in the framework of Deleuzian-Guattarian and Derridean notions, together with post-media and software studies. It interrogates the dynamicity of the combinations or assemblages in the project's composites to identify processes of deploying software for apprehending what escapes recognition. The concluding results stipulate the importance of appreciating digital composites as productive of sensations, affect, and forces, in a Deleuzian-Guattarian sense. This reiterates the dynamicity of software as a non-human agency that transpose multiple content, along with realities that intensify experience, thereby promoting various modes of seeing and being (Manovich; Parikka). Basically, the encounter with the The oriental dancer digital composite activates a poetics of potentiality that releases infinite modes of becoming, a gateway to the possibilities of future reinvention.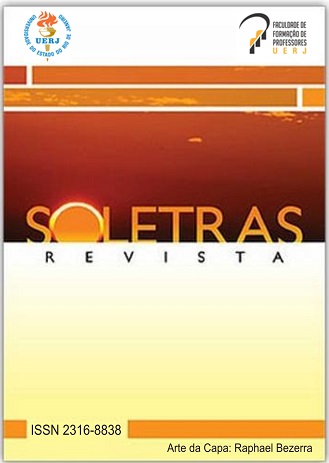 Downloads
Licença
A aprovação dos artigos implica a cessão imediata e sem ônus dos direitos de publicação nesta revista. O(s) autor(es) autoriza(m) ao Programa de Pós-graduação em Letras e Linguística (PPLIN)  a reproduzi-lo e publicá-lo na revista SOLETRAS, entendendo-se os termos "reprodução" e "publicação" conforme definição do artigo 5° da Lei 9610/98. O(s) autor(es) continuará(rão) a ter os direitos autorais para publicações posteriores. O artigo poderá ser acessado pela rede mundial de computadores (http://www.e-publicacoes.uerj.br/index.php/soletras), sendo permitidas, a título gratuito, a consulta e a reprodução de exemplar do artigo para uso próprio de quem o consulta. Casos de plágio ou quaisquer ilegalidades nos textos apresentados são de inteira responsabilidade de seus autores.