ethics of friendship and disability: other forms of conviviality with the becoming of the disabled student at school
Keywords:
ética da amizade, deficiência, confiança, escola.
Abstract
After the implementation of inclusion policies in Brazil, friendship relations between the actors of the school so called "disabled" students and the rest of students have become increasingly frequent. Often these relationships go beyond time and space, the knowledge and the curriculum, to produce common modes of existence and a transverse ethics rarely seen by the institution. This invisibility is even more accentuated in the case of nowadays biopolitics scenario, which corroborates to raise suspicion concerning the disabled modes of existence and the joined becoming produced by the friendly relations between the actors at school. Given the context, this essay examines the ethics of friendship regarding the disabled ones and the trust as one of the conditions of its achievement at school. Drawing from the aesthetics of existence of Michel Foucault, my goal is to discuss: (1) whether friendship with the disabled one may present itself as a new ethic that is able to question current formal apparatus and resist the biopower technologies in school, perhaps creating other forms of inclusion; (2) whether the trust in the joined becoming that emerges from such friendly relations can be regarded as one of the conditions for their achievement and a strategy to reverse the current mistrust in the disabled one, in order to minimize fear and bring into existence a sign of the life event that it represents. By addressing these issues, I hope to contribute in a way in which the friendship with disabled ones is seen as a sign of a formation of the actors at school and the trust in the becoming disabled becomes visible as a transverse common struggle: the condition for the achievement of the ethics of friendship that introduces itself as a major political strategy to leverage these separate lives that deserve to be lived.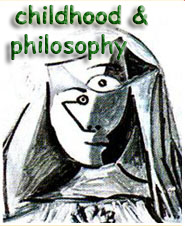 Downloads
How to Cite
pagni, pedro angelo. (2016). ethics of friendship and disability: other forms of conviviality with the becoming of the disabled student at school. Childhood & Philosophy, 12(24), 343–370. https://doi.org/10.12957/childphilo.2016.23016
License
copyright for each article published in childhood & philosophy belongs to its author(s). childhood & philosophy has the right of first publication. permission to reprint any article that appears in childhood & philosophy MUST be obtained in writing from the author(s). in addition to any form of acknowledgement required by the author(s), the following notice must be added to the statement of copyright permission made in the reprint (with the appropriate numbers replacing the ellipses): [Article Title] was originally published in childhood & philosophy, volume ..., number ..., pp. ...-...