the magic circle and the art of leaving to repeat in childhood: exercising and learning in the spheres
Keywords:
antropotechnique, childhood, spherology
Abstract
Modern anxiety about human formation has been articulated around crucial questions for exercises, behaviors, routines, habits that are triggered to give children a certain shape, modeling the future of infans through repeated and regulated activities, at the same time in which the autoplastic forces that interact in the configuration of all life are tame. Not coincidentally, Peter Sloterdijk apprehends modernity as a form of secularization and collectivization of the life of the exercise, displacing the asceses transmitted from Antiquity from its respective spiritual contexts and dissolving them in the foamy fluid of the present biopolitical communities dedicated to the training and the industralism of the subjectivity. Based on his asceticism, it is possible to see how childhood education is at the center of a long historical chain of training through an art driven by immunological procedures and selective antropotechnique turned to the production of innumerable childhood farewells that aim to wrest the subject from their communities insuflated, hardening them and manufacturing them as "state athletes" or "domestic enterprises". In this direction, this essay intends to explore from the spherological drama described by Sloterdijk, which means to think of childhood when one has to pay the price for the absence of protective layers, that is, when the magic circles explode, the bubbles of soap blown by the eyes the child.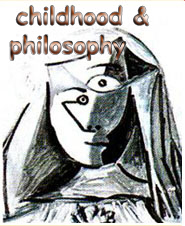 Downloads
How to Cite
freitas, alexandre simão. (2018). the magic circle and the art of leaving to repeat in childhood: exercising and learning in the spheres. Childhood & Philosophy, 14(30), 317–339. https://doi.org/10.12957/childphilo.2018.31728
License
copyright for each article published in childhood & philosophy belongs to its author(s). childhood & philosophy has the right of first publication. permission to reprint any article that appears in childhood & philosophy MUST be obtained in writing from the author(s). in addition to any form of acknowledgement required by the author(s), the following notice must be added to the statement of copyright permission made in the reprint (with the appropriate numbers replacing the ellipses): [Article Title] was originally published in childhood & philosophy, volume ..., number ..., pp. ...-...