de infancias, tiempos y existencias: habitar los espacios del «quando infante»
Keywords:
infancias, temporalidad, existencia
Abstract
Este trabajo propone una serie de reflexiones en torno a las ideas de tiempo y existencia desde el pensamiento de Emmanuel Levinas, poniéndolas en diálogo con una suerte de aventura poética que Manoel de Barros encarna en su narrativa, como una travesía de la memoria por el tiempo y espacio de la infancia. Partimos de la pregunta por la posibilidad de habitar el propio tiempo de la existencia como una vuelta a un tiempo infantil nuevo y actualizable, a un ser infante como comienzo de otros modos de ser, y proponemos una invitación a recrear las posibles variaciones entre el tiempo como temporalidad y sus relaciones con la alteridad y la educación. El tiempo pensado aquí remite también a la idea de acontecimiento como espacio propicio para la experiencia, como oportunidad para otros modos de pensar lo temporal desvinculado de intencionalidades prescriptas y anticipaciones, un espacio conmovido frente a lo radicalmente Otro, en el sentido levinasiano que entiende al tiempo como un "ensanchamiento" de la existencia individual y como una apertura al Otro y a lo Otro como parte de la propia relación con la alteridad. Estos temas se piensan a su vez, atravesados por experiencias, miradas y sentires nacidos de contextos escolares de trabajo con niños y niñas hospitalizados/as, donde nos interrogamos por el acontecimiento educativo como instancia para poner en juego sentidos singulares del existir y de una experiencia temporal novedosa, donde las reflexiones en torno a la existencia y los tiempos de ser infante se conectan vitalmente al sufrimiento y la pregunta ética por la finitud.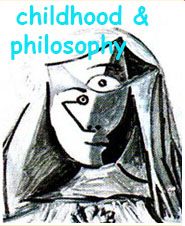 Downloads
How to Cite
argumedo, malvina. (2017). de infancias, tiempos y existencias: habitar los espacios del «quando infante». Childhood & Philosophy, 13(26), 05–20. https://doi.org/10.12957/childphilo.2017.26261
License
copyright for each article published in childhood & philosophy belongs to its author(s). childhood & philosophy has the right of first publication. permission to reprint any article that appears in childhood & philosophy MUST be obtained in writing from the author(s). in addition to any form of acknowledgement required by the author(s), the following notice must be added to the statement of copyright permission made in the reprint (with the appropriate numbers replacing the ellipses): [Article Title] was originally published in childhood & philosophy, volume ..., number ..., pp. ...-...