the community of philosophical inquiry and the enhancement of intercultural sensitivity
Keywords:
Intercultural sensitivity, Self-reflexivity, Pluralism, Dialogue, Hope.
Abstract
This analysis shows how P4C can be used as a tool to enhance greater intercultural sensitivity. A group of young Maltese university seekers and teenage unaccompanied minor asylum seekers engaged in dialogic inquiry, in the process changing the way in which they see their individual subjective identities. The analysis moves away from the application of P4C in formal educational settings and also moves away from its application in childhood settings. In this manner, it aspires to advance knowledge of how P4C can be creatively applied to generate such values as understanding, empathy, dialogue, acceptance of self and others, and sharing. It also shows how people can heal certain past hurts through sharing and also help them to generate hope of a brighter future. Their formation into a community of inquiry is an outward manifestation of their inner quest for a greater understanding of their own realities and their desire to understand people of other cultures. Through providing an account based on listening to the voices of the young asylum seekers, the analysis is informed by the transience of lived experiences and the youthfulness of the asylum seekers. It is based on an inter-disciplinary blend of psychoanalytic, socio-cultural, and philosophical thinking.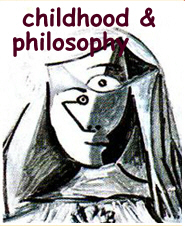 Downloads
How to Cite
spiteri, damian. (2010). the community of philosophical inquiry and the enhancement of intercultural sensitivity. Childhood & Philosophy, 6(11), pp. 87–111. Retrieved from https://www.e-publicacoes.uerj.br/childhood/article/view/20559
License
copyright for each article published in childhood & philosophy belongs to its author(s). childhood & philosophy has the right of first publication. permission to reprint any article that appears in childhood & philosophy MUST be obtained in writing from the author(s). in addition to any form of acknowledgement required by the author(s), the following notice must be added to the statement of copyright permission made in the reprint (with the appropriate numbers replacing the ellipses): [Article Title] was originally published in childhood & philosophy, volume ..., number ..., pp. ...-...