participation and political subjectivation of calunga children and young people
Keywords:
participation, childhood, youth, subjectivation, education
Abstract
The article intends to discuss processes of political subjectivation of children and young people based on excerpts from a research carried out within the scope of a master's degree in education, presenting a cartography of the political participation of children and young people living in vulnerable territories of the municipality of São Vicente, on the south coast from São Paulo, members of collectives and educational actions of the Instituto Camará Calunga. The concepts of mobilization and subjectivation are presented as important elements of politicization processes, portraying the way in which children and young people engage politically in different ways, coordinated or supported by adults, representing themselves or supporting adults in their demands, opposing the notion that children do not act politically or that the ideal way for children and young people to participate would be to produce consensus and there would be no room for contestation. The research took place in the midst of the COVID-19 pandemic, essentially in a virtual way, but it traces a continuity with the Institute's participation practices in the pre-pandemic period. The research made use of the cartographic method, in a virtual and face-to-face way, in the context of live work, of daily living with children, young people and educators from Camará, through semi-structured interviews and field diaries.
References
Alderson, Priscilla; Yoshida, Tamaki. Meanings of children's agency. In: Florian, Esser; Meike, Baader; Betz, Tanja; Hungerland, Beatrice. Children as actors: Childhood and agency. London: Routledge, 2016. p. 75-88.
Benelli, Sílvio, José. Entidades Assistenciais Socioeducativas: a trama institucional. Petrópolis/RJ: Vozes, 2014.
Barros, Letícia Maria Renault de; Barros, Maria Elizabeth Barros de. O problema da análise em pesquisa cartográfica. Fractal: Revista de Psicologia, 25(20), p. 373-390, 2013.
Barros, Laura Pozzana; Kastrup, Virgínia. Cartografar é acompanhar processos. In: Passos, Eduardo; Kastrup, Virgínia; Escóssia, Liliana. Pistas do método da cartografia. Porto Alegre: Sulina, 2012. p 52-75.
Brasil. Lei 8.069 de 13 de julho de 1990. Dispõe sobre o Estatuto da Criança e Adolescente e dá outras providências. Brasília, DF. 1990. Disponível em: http://www.planalto.gov.br/ccivil_03/leis/l8069.htm. Acessado em: 05 jan 2022.
Cappi, Riccardo. Sujeito de direito e prática educativa. In: Bianchi, Annamaria (Org). Plantando Axé: uma proposta pedagógica. São Paulo: Cortez, 2013.
Castro, Lucia Rabello de. O futuro da infância e outros escritos. Rio de Janeiro: 7Letras/Faperj, 2013.
Catini, Carolina de Roig; Mello, Gustavo Moura de Cavalcanti. Escolas de luta, educação política. Educação & Sociedade, 37, p. 1177-1202, 2016. Disponível em: <https://doi.org/10.1590/ES0101-73302016163403>. Acesso em: 28 jan. 2022.
Comitê Invisível. A insurreição que vem. Lisboa: Edições Antipáticas, 2013.
Dip, Flávia Franzini; Tebet, Gabriela Guarnieri Campos. Sociologia da Infância, Protagonismo Infantil e Cultura de Pares: um mapeamento da produção acadêmica sobre o tema. Zero-a-seis, 21(39), p. 31 - 50, 2019.
Duhn, Iris. Making agency matter: rethinking infant and toddler agency in educational discourse. Discourse: Studies in the Cultural Politics of Education. 36(6), p. 920-931, 2015. Disponível em: doi: 10.1080/01596306.2014.918535 Acesso em: 27 jan. 2022.
Fernandes, Claudio Oliveira. Bloco EURECA: uma marca para a educação social. Dissertação de Mestrado. Mestrado Profissional Adolescente em Conflito com a Lei da Universidade Anhanguera de São Paulo, 2016.
Fernandes, Natália. Infância, Direitos e Participação: Representações, Práticas e Poderes. Porto: Afrontamento, 2009.
Fernandes, Natália. Da afonia à voz das crianças nas pesquisas: uma compreensão crítica do conceito de voz. Revista Brasileira de Pesquisa (Auto)Biográfica, v. 5, n. 15, p. 970-986, 2020.
Gallo, Silvio. "O pequeno cidadão": sobre a condução da infância em uma governamentalidade democrática. In: Resende, H. (Org.). Michel Foucault: o governo da infância. Belo Horizonte: Autêntica, 2015. p. 329-343.
Garcia, Maurício Lourenção. Carnavalismo: produção de alegorias existenciais. Tese (Doutorado em Psicologia Clínica), Pontifícia Universidade Católica de São Paulo, 2004.
Macedo, Elina Elias de. Crianças pequenininhas e a luta de classes. 2016. Tese (Doutorado em Educação, Universidade Estadual de Campinas, 2016.
Martins, Eduardo de Carvalho; Viana, Cássio Vinicius Afonso. Representação da infância e representatividade infante: posições ético-políticas. Psicologia Clínica, Rio de Janeiro, v. 32, n. 1, p. 151 - 172, 2020.
Piedade, Vilma. Dororidade. São Paulo: Editora Noz, 2017.
Prout, Alan. The future of childhood: Towards the interdisciplinary study of children. London: Routledge, 2004.
Prout, Alan; Simons, Richard; Brichall, Johnston. Reconnecting and extending the research agenda on children's participation: mutual incentives and the participation chain. In: Tisdall, Kay; Davis, John; Prout, Alan; Hill, Malcolm. (Ed). Children, Young People and Social Inclusion: Participation for what? Policy Press, Bristol, 2016. p. 75-104.
Qvortrup, Jens. Infância e política. Cadernos de Pesquisa, v. 40, n. 141, p. 777 - 792, 2010.
Ramos, Márcia Mara; Aquino, Ligia Leão de. As crianças sem terrinha e as mobilizações infantis no Brasil. Praxis & Saber, v. 10, n. 23, p. 157 - 176, 2019.
Rancière, Jacques. Nas margens do político. Portugal, Lisboa: KKYM, 2014.
Rancière, Jacques. O mestre ignorante – cinco lições sobre a emancipação intelectual. 3ª ed. Belo Horizonte: Autêntica Editora, 2017.
Rodrigues, Breno Ayres Chaves. Etnografias de infâncias calungas: um estudo sobre o cotidiano de crianças de um bairro periférico em São Vicente/SP. Dissertação de Mestrado. Programa de Pós graduação em Ensino em Ciências da Saúde da Universidade Federal de São Paulo, 2019.
Rosa, Rogério Machado. A cartografia como estratégia de pesquisa: Agenciamento de afetos. Rizoma: Experiências interdisciplinares em ciências humanas e sociais aplicadas, v. 2, n. 1, p. 191 - 202, 2017.
São Bernardo, Augusto Sérgio dos Santos de. Kalunga e o Direito: a emergência de uma justiça afro-brasileira. Tese de Doutorado. Programa de Doutorado Multiinstitucional e multidisciplinar em difusão do conhecimento da Universidade Federal da Bahia, 2018.
Slenes, Robert. W. "Malungu, ngoma vem!": África coberta e descoberta do Brasil. Revista USP, v. 12, p. 48 - 67, 1992.
Souza, Regina Magalhães de. O discurso do protagonismo juvenil. . Tese de Doutorado. Programa de Pós-graduação em Sociologia da Universidade de São Paulo, 2008.
Trevisan Gabriela. Aprendizagem na construção de pesquisa com crianças e sobre crianças. Currículos sem Fronteiras, v. 15, n. 1, p. 142-154, 2015.
Wyness, Michael. Children's Participation and Intergenerational Dialogue: Bringing Adults Back into the Analysis. Childhood, v. 20, n. 4, p. 429-442, 2009.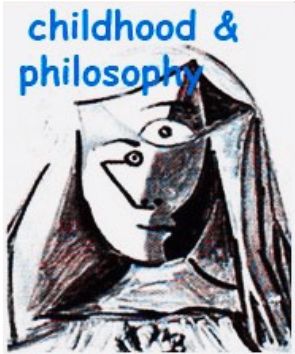 Downloads
How to Cite
noronha, josé eduardo gama, & tebet, gabriela. (2023). participation and political subjectivation of calunga children and young people. Childhood & Philosophy, 19, 01–26. https://doi.org/10.12957/childphilo.2023.72948
License
copyright for each article published in childhood & philosophy belongs to its author(s). childhood & philosophy has the right of first publication. permission to reprint any article that appears in childhood & philosophy MUST be obtained in writing from the author(s). in addition to any form of acknowledgement required by the author(s), the following notice must be added to the statement of copyright permission made in the reprint (with the appropriate numbers replacing the ellipses): [Article Title] was originally published in childhood & philosophy, volume ..., number ..., pp. ...-...