biopolítica, formas de controle sobre a vida e a deficiência: olhares outros sobre a inclusão e a resistência na escola
Abstract
A educação, não obstante as promessas formativas e emancipatórias que postulou, se constituiu em das artes de governo sobre a infância, ao se instituir na escola e compreender em um conjunto de dispositivos destinados a ampliar as formas de controle sobre a vida.  Estas formas específicas de controle da vida produzidas pela instituição escolar se legitimam por tecnologias e saberes que as justificam em torno de um paradigma de sujeito e de normalidade. Na atualidade, quando o sujeito se restringe ao cerebral e a norma passa a legitimar as políticas de inclusão dos diferentes modos de existência, parece-nos que as promessas formativas e emancipatórias caem por terra, restringindo a educação a uma tecnologia do biopoder com funções bastante específicas, sobretudo, em relação aos designatos deficientes. Diagnosticar tais especificidades é o propósito geral deste dossiê que parte do empreendedorismo de si, centrado na figura do sujeito cerebral como paradigma da biopolítica atual, para apresentar algumas possíveis ontologias do devir deficiente, os modos de existência assim designados e as práticas que os tomam eticamente como uma expressão da resistência às formas excessivas de controle da vida estabelecidas na escola.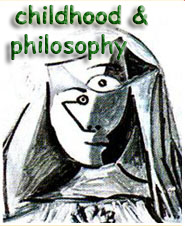 Downloads
How to Cite
pagni, pedro, silva, divino josé da, & carvalho, alexandre filordi de. (2016). biopolítica, formas de controle sobre a vida e a deficiência: olhares outros sobre a inclusão e a resistência na escola. Childhood & Philosophy, 12(24), 205–210. https://doi.org/10.12957/childphilo.2016.25334
License
copyright for each article published in childhood & philosophy belongs to its author(s). childhood & philosophy has the right of first publication. permission to reprint any article that appears in childhood & philosophy MUST be obtained in writing from the author(s). in addition to any form of acknowledgement required by the author(s), the following notice must be added to the statement of copyright permission made in the reprint (with the appropriate numbers replacing the ellipses): [Article Title] was originally published in childhood & philosophy, volume ..., number ..., pp. ...-...