education and plastic force. the deficiency that constitutes us
Keywords:
Fuerza plástica, resiliencia, accidente, deficiencia, educación
Abstract
The human being is a protean being whose reality is change and transformation. Transformation is unpredictable. Being human is being different. This adaptability to change is only one of the characteristics of being protean and the misfortune of peoples and countries occur as its consequence. In other areas, such issue was referred to as resilience. To live better, we must learn to minimize the possibility of accidents, can and must learn to take care of ourselves and of others (especially in societies as giddy and subject to change as ours). Within the adaptability to change, there exists the possibility of a destructive ability to change which is responsible for the separation between before and after, between subjectivity and life. Whether we are or not to face this reality of what occurs by accident, we should nonetheless, educate for resilience. Both subjects are equally important: the fragile nature of humankind together with its strength to overcome incidents and to move on. Inadequacy is not only available for some but instead, it is part of human nature. This puts us in another point of view, in which the inadequacy is not the other, but we are all, beings made of scraps that have been affirmed in the becoming, denying possibilities and can be reconstituted every time, incomplete, insufficient and partial beings.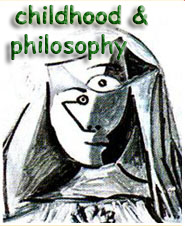 Downloads
How to Cite
diaz genis, andrea marta. (2016). education and plastic force. the deficiency that constitutes us. Childhood & Philosophy, 12(24), 261–276. https://doi.org/10.12957/childphilo.2016.22959
License
copyright for each article published in childhood & philosophy belongs to its author(s). childhood & philosophy has the right of first publication. permission to reprint any article that appears in childhood & philosophy MUST be obtained in writing from the author(s). in addition to any form of acknowledgement required by the author(s), the following notice must be added to the statement of copyright permission made in the reprint (with the appropriate numbers replacing the ellipses): [Article Title] was originally published in childhood & philosophy, volume ..., number ..., pp. ...-...