the butterfly and the violin the urgency of an appointment: childhood(s), school(s) and inequality
Keywords:
Escuela(s), Educar, Infancia(s), Igualdad
Abstract
This paper presents a political and pedagogical reflection on the education of the working-class childhoods. Part of its content refers to a research work which tries to comprehend if, in Argentina, state schools located in territories traumatically marked by inequality can produce educational experiences which alter the given order. It tries to explore, based on a school scene, the possibility to think school gestures from the perspective of movement and from the variation that takes place when a teaching team disputes the meanings of equality and it produces other ways to see childhood, childhoods. This is a text which explores the conditions of possibility in the light of the brutal advance of neoliberalism in our country. Boys and girls from the working-class are victims of "trigger-happy" police officers, of repression and persecution by security forces. Their educational careers are frequently interrupted by factors linked to the worsening of their life conditions. The infantilization of poverty in Latin American countries is reflected in the educational field. Segregated child populations attend devaluated school circuits which reproduce the exclusion processes. This paper tries to recover the educational experiences which interrupt what is expected, which dismantle the discourse of fear and insecurity and challenge the discursive equivalence that associates a poor boy or girl with a social danger. Its purpose is to put forth the idea that gestuality, institutional actions rooted in questions and movement which encourages thinking allow us to imagine other possible worlds, to write other melodies that vary from the expected and to invent other polyphonic textures in education. In other words, to cater for those small movements which, on the basis of equality, can define a direction in one way or another. Schools in working-class sectors frequently find themselves trapped in very complex processes; however, there are countless actions that, from the educational perspective, can be conducted to dispute the meanings of teaching in public terms.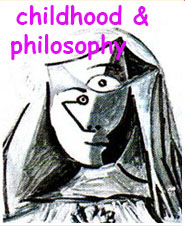 Downloads
How to Cite
redondo, patricia raquel. (2018). the butterfly and the violin the urgency of an appointment: childhood(s), school(s) and inequality. Childhood & Philosophy, 14(31), 545–556. https://doi.org/10.12957/childphilo.2018.36192
License
copyright for each article published in childhood & philosophy belongs to its author(s). childhood & philosophy has the right of first publication. permission to reprint any article that appears in childhood & philosophy MUST be obtained in writing from the author(s). in addition to any form of acknowledgement required by the author(s), the following notice must be added to the statement of copyright permission made in the reprint (with the appropriate numbers replacing the ellipses): [Article Title] was originally published in childhood & philosophy, volume ..., number ..., pp. ...-...