childhood, alterity and teacher training: meeting with children as a powerful transformation
Keywords:
formação docente, infância, alteridade.
Abstract
This paper aims to share reflections produced in the core of a research developed in everyday life of a school located in the city of Rio de Janeiro, in order to think the teacher training process and the child's potentiality in it. Through an investigation from the perspective of research with daily life, making use of narratives produced in the field notebook and of impressions and senses created throughout the investigation, brings two scenes experienced in the daily life of the mentioned public school and, with them, discusses concepts of training and child, defending the latter as a legitimate other in teacher education and training as a singular process and at the same time, collective and polyphonic. Finally, from the proposed problematization, the text invites us to think training with childhood in the quality of training as experience: that one which makes us think and think about ourselves, that is a training that moves us and causes us to inquire about our certainties and crystallized truths, invites us to be already others of ourselves, to rethink our ways of being, to be and to live the teaching experience with the children. Therefore, it is an invitation to think about our place and the place of children, in other words, our relationship in education and teacher's training.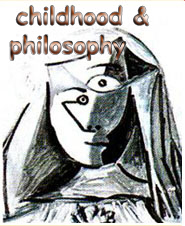 Downloads
How to Cite
ribeiro, tiago, souza, rafael de, & guedes, adrianne ogêda. (2018). childhood, alterity and teacher training: meeting with children as a powerful transformation. Childhood & Philosophy, 14(30), 261–276. https://doi.org/10.12957/childphilo.2018.29281
License
copyright for each article published in childhood & philosophy belongs to its author(s). childhood & philosophy has the right of first publication. permission to reprint any article that appears in childhood & philosophy MUST be obtained in writing from the author(s). in addition to any form of acknowledgement required by the author(s), the following notice must be added to the statement of copyright permission made in the reprint (with the appropriate numbers replacing the ellipses): [Article Title] was originally published in childhood & philosophy, volume ..., number ..., pp. ...-...