images and childhood, indiscernible territorialities
Keywords:
imagem, infância, filosofia da diferença, imagem-tempo.
Abstract
It is a common feature of the field of Education that the images of childhood, represented within the logic of representation,  are subject to the complementary dimensions of the Same and the Similar, the Analogous and the Opposed. They configure themselves in the densification of the relation between thought and image, where the image suppresses the potentialities of proliferation of the differences. It seems  necessary to consider the creation of a zone with many non-distinguishable forms, the common area being the indiscernibility. In this text, we seek other possibilities of childhood by taking as references photographic images as well as those of movie features which focus on the importance of the conceptual articulation between childhood and the events and its relations to the inventive means of creation. We display territorialities to childhood through images - photographs of the "Almanaque 'Eu Sei Tudo '" and some movie productions such as those of Tarkovski and Truffaut - challenged by the conceptions presented by Gilles Deleuze to the study of images coming from movies, from paintings and the processes of singularization. Somewhere between words and images, we work on the concept of childhood together with other concepts, showing how they relate to the whole process of production of transformations. At the end, we leave as an open question the degree of potentiality that the images of childhood have in order to produce a subject as the result of experiments of intensity.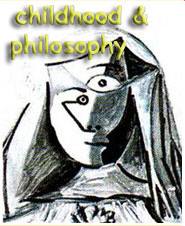 Downloads
How to Cite
amorim, antonio carlos rodrigues de, novaes, marcus pereira, & carvalho, fábio reynol de. (2017). images and childhood, indiscernible territorialities. Childhood & Philosophy, 13(27), 303–333. https://doi.org/10.12957/childphilo.2017.27995
License
copyright for each article published in childhood & philosophy belongs to its author(s). childhood & philosophy has the right of first publication. permission to reprint any article that appears in childhood & philosophy MUST be obtained in writing from the author(s). in addition to any form of acknowledgement required by the author(s), the following notice must be added to the statement of copyright permission made in the reprint (with the appropriate numbers replacing the ellipses): [Article Title] was originally published in childhood & philosophy, volume ..., number ..., pp. ...-...