free thought school, a journey since the estigma of subnormality until the empowerment of people in between people
Abstract
There may be a school where they "think" freely and whose teachers are people with intellectual disabilities? We are talking about the possibility of people who have "failed" "academically", as adults, merge an alternative school space runned by them (with the necessary support) and where they are the "Socratic teacher" and the lessons taught there have to do with thinking, values or emotions. That dream is a possible utopia of two educators, Chema Sanchez and Juan Carlos Morcillo, and of an institution to support them as FEAPS – Plena Inlcusión, with Philosophy to Children – Valenciana Comunity (FpNCV) as pedagogical adviser: a possible utopia, a space where people will not be labeled for their shortcomings but for their potential, a creative space where thought, as Ortega said, is a vital function such as breathing or eating, an emotional space where people are the center of our looks and these people's ideas or dreams or values compose the "core" materials for the educational program, an unstable space where we grow together in duties and rights, a libertarian space that radiate a new form of education that is not fixed on what we know but in what we want and what we desire, without copyright and whose ultimate destination is to be copied, reproduced, recreated in other spaces where people with disabilities choose to take charge of education and prove to society that "disabled people" do not exist, it is the societies that discriminate or marginalize others based on certain social standard which, certainly, have no place in our School of Free Thought.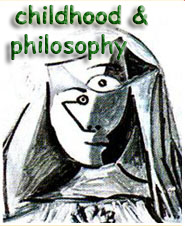 Downloads
How to Cite
sánchez alcon, chema. (2016). free thought school, a journey since the estigma of subnormality until the empowerment of people in between people. Childhood & Philosophy, 12(24), 417–441. https://doi.org/10.12957/childphilo.2016.22930
License
copyright for each article published in childhood & philosophy belongs to its author(s). childhood & philosophy has the right of first publication. permission to reprint any article that appears in childhood & philosophy MUST be obtained in writing from the author(s). in addition to any form of acknowledgement required by the author(s), the following notice must be added to the statement of copyright permission made in the reprint (with the appropriate numbers replacing the ellipses): [Article Title] was originally published in childhood & philosophy, volume ..., number ..., pp. ...-...