childhood and children's education: what do the teachers say?
Keywords:
childhood, teacher education,
Abstract
The attempt to convene a discussion about childhood suggests a plurality of educative issues and raises important problems in the context of basic education. To recognize children in their specificity, and to engage and encounter them beyond the discourses produced about them seems to be a challenge today, most especially in the field of childhood education. The large majority of educational discourses assume a notion of childhood as inserted in chronological time, associated with the future, and constituting a doubtful minority. The objective of this paper is to understand what significations and meanings are configuring the discursive practices maintained among teachers about the childhood.I start with the hypothesis that, despite the reconstitution of meaning that has occurred in the field, educators still associate the concept of childhood and its formation with the idea of becoming adult, and presume to explain the notion of childhood technically, in terms of a body of "scientific" knowledge. The research described here is based on an inquiry that took place in various Childhood Education Centers of the Public Municipal Network of the state of Pernambuco, Brazil. Although it is unfinished, this research, based on interviews, suggests that teacher discourses inhabit two discursive temporalities, and two childhoods: on the one side, the affirmation of the same, of unification, of linearity; on the other, the affirmation of difference, of novelty, of the singular. Although they enunciate different meanings for childhood, these meanings are not in themselves contradictory. They do, however, function in some way to maintain a form of schooling that lacks sensitivity to children and a more affirmative relationship to childhood in general, and which encloses itself in an adult vision of what children's needs might be the. I try to show that those needs exceed the specificity of the teaching and learning typically encountered in schools, and to evaluate to what extent they are affirmed by scholarly notions of childhood.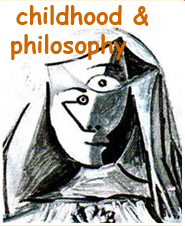 Downloads
How to Cite
lima de salles, conceição gislane nóbrega. (2013). childhood and children's education: what do the teachers say?. Childhood & Philosophy, 8(16), 443–458. Retrieved from https://www.e-publicacoes.uerj.br/childhood/article/view/20732
License
copyright for each article published in childhood & philosophy belongs to its author(s). childhood & philosophy has the right of first publication. permission to reprint any article that appears in childhood & philosophy MUST be obtained in writing from the author(s). in addition to any form of acknowledgement required by the author(s), the following notice must be added to the statement of copyright permission made in the reprint (with the appropriate numbers replacing the ellipses): [Article Title] was originally published in childhood & philosophy, volume ..., number ..., pp. ...-...