the childhood concept in walter kohan in the sense of inventing a popular school
Keywords:
infancia, educación popular, Igualdad
Abstract
This paper proposes the concept of childhood thinking proposed by Walter Kohan as a condition of possibility for the creation of a concept different from traditional school. According with our point of view the philosophical idea of childhood proposed for this author can not be accepted in an educational institution as we know it because of its radical originality. We carry out a critical presentation of the image of childhood proposed by the author and opposed to the traditional view of childhood and school. After evaluating the limits and scope of the idea conceived by Kohan within the school, we propose the creation of a different concept of school: popular school. From our point of view the school as we know it can not get inside to the idea of childhood as posed Kohan given its disarticulating and desinstituyente character. Because of this we think the concept of school that can accommodate children. For them we rely on the work of Rancière, Masschelein, Simons and Simón Rodríguez. The action and thinking of Rodríguez in Chuquisaca city results in an unprecedented occurrence for the education of this time. Under this appearance Rodríguez is forced to find a concept that account for it. So education popular born naming novelty in Chuquisaca. This paper argues that popular education created for Rodríguez in 1826 offers a completely new form whose implications still be observed.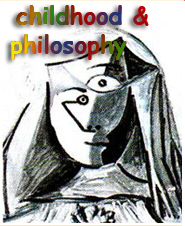 Downloads
How to Cite
duran, maximiliano. (2015). the childhood concept in walter kohan in the sense of inventing a popular school. Childhood & Philosophy, 11(21), 163–186. Retrieved from https://www.e-publicacoes.uerj.br/childhood/article/view/20721
License
copyright for each article published in childhood & philosophy belongs to its author(s). childhood & philosophy has the right of first publication. permission to reprint any article that appears in childhood & philosophy MUST be obtained in writing from the author(s). in addition to any form of acknowledgement required by the author(s), the following notice must be added to the statement of copyright permission made in the reprint (with the appropriate numbers replacing the ellipses): [Article Title] was originally published in childhood & philosophy, volume ..., number ..., pp. ...-...