environmental study as a methodology for critical apprehension of socioenvironmental diversity
Abstract
Environmental education is an educational proposal that seeks a change of habits, attitudes and social practices for a solution to the framework of socio-environmental degradation. Despite the strategies proposed by the Brasilian National Curriculum, the environmental issue still impacts the educational practices within school walls, and therefore demands structural and pedagogical changes within education, a rethinking of the role of schools in contemporary society, and their responsibility in forming sustainable societies. Against this, become necessaries the reflection and the creation of possibilities for change on environmental issues. In this sense, "The studies of the Environmental" is a method of teaching and researching which values the diversity of knowledge, encourages the coexistence of ideas, and reveals the complexity of the relationship between society and the environment, all of which allow for.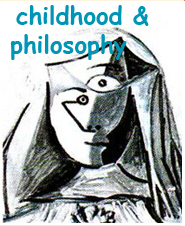 Downloads
How to Cite
sulaiman, samia nascimento, & talaveira valentini tristão, virgínia. (2011). environmental study as a methodology for critical apprehension of socioenvironmental diversity. Childhood & Philosophy, 7(14), 299–318. Retrieved from https://www.e-publicacoes.uerj.br/childhood/article/view/20572
Section
concurso nacional anped
License
copyright for each article published in childhood & philosophy belongs to its author(s). childhood & philosophy has the right of first publication. permission to reprint any article that appears in childhood & philosophy MUST be obtained in writing from the author(s). in addition to any form of acknowledgement required by the author(s), the following notice must be added to the statement of copyright permission made in the reprint (with the appropriate numbers replacing the ellipses): [Article Title] was originally published in childhood & philosophy, volume ..., number ..., pp. ...-...