greta thunberg — a unique voice in a post-truth era
Keywords:
children's rights, Girl Rising movement, post-truth, existential paradigm, acknowledgements, grown-up way
Abstract
Since the turn of the millennium, a new phenomenon has arisen on the global stage, as girls have increasingly begun to raise their voices. In an effort to achieve new philosophical understandings of contemporary childhoods in a post-truth era, the present article examines this Girl Rising movement from an existential perspective. In doing so, the article aims to problematise children's right to be heard and listened to, as enshrined in Article 12 of the Convention on the Rights of the Child. More specifically, the article explores children as rights-holders and their rights-subject position and how these positions are supported (or not) by adults in different ways. Throughout the analysis, Greta Thunberg is used as a case study to illustrate the phenomenon under study. This new movement highlights children's right to be heard as a valuable right. The defence of this view relies on the claim that at the heart of adult's acknowledgement lies the uniqueness of each child and the implications of this uniqueness. Taking into consideration the realisation of children's rights, powerful stakeholders who seek to silence children's voices are also identified, as are worldwide adult acknowledgements intended to empower girls to exist 'in' and 'with' the world in a 'grown-up' way.
References
Arendt, H. (1958). The human condition. University of Chicago Press.
Aristotle. (1996). The politics and the constitution of Athens. In S. Everson (ed.). Cambridge University Press.
Bang, H. (2005). Everyday makers and expert citizens: Active participants in the search for a new governance. In J. Newman (ed.), Remaking governance: Peoples, politics and the public sphere. Policy Press.
Bendo, D. (2020). Parallel lines? Childhood discourses emphasized by the children's rights movement and the emerging field of children's rights studies. Childhood, 27 (2), 173–187.
Biesta, G. (2007). Don't count me in. Democracy, education and the question of inclusion. Nordic Studies in Education, 27 (1), 18–29.
Biesta, G. (2015). The beautiful risk of education. Routledge.
Biesta, G. (2022). World-centred education. A view for the present. Routledge.
Bingham, C., & Sidorkin, A. (2004) (Eds.). No education without relation. Peter Lang.
Bourne, R. ([1913] 1971). Youth and life. Burt Franklin.
Buckingham, D. (2000). After the death of childhood. Growing up in the age of electronic media. Polity Press.
Castor, H. (2015). Joan of Arc: History. Harper.
Collin, P. (2015). Young citizens and political participation in a digital society: Addressing the digital disconnect. Palgrave.
Cummings, M. (2020). Children's voices in politics. Peter Lang.
Deleuze, G., & Guattari, F. (1988). A thousand plateaus: Capitalism and schizophrenia. Athlone.
Ernman, M., & Thunberg, S. (2018). Scener ur mitt hjärta [Scenes from my heart]. Polaris.
Gergen, K. (2009). Relational being: Beyond self and community. Oxford University Press.
Gorman, J. (2021). Disobedient youth: Lessons from the youth climate strike movement. Centre for Youth Research and Development, Maynooth University.
Hart, R. (1997). Children's participation. The theory and practice of involving young citizens in community development and environmental care. UNICEF.
Held, D. (1987). Models of democracy. Polity Press.
Holmberg, A., & Alvinius, A. (2019). Children's protest in relation to the climate emergency: A qualitative study on a new form of resistance promoting political and social change. Childhood, 1 (6436), 1–15.
James, A., & Prout, A. (Eds.)(1997) Constructing and reconstructing childhood. Contemporary issues in the sociological study of childhood, 2nd ed. Falmer.
Josefsson, J., & Wall, J. (2020). Empowered inclusion: theorizing global justice for children and youth. Globalizations, 17 (6), 1043-1060.
Jung, J., Petkanic, P., Nan, D., & Kim, J. (2020). When a girl awakened the world: A user and social message analysis of Greta Thunberg. Sustainability, 12 (7), doi:10.3390/su12072707
Key, E. ([1900] 1909). The century of the child. G. P. Putnam's Sons.
Lansdown, G. (2014). 25 years of UNCRC: Lessons learned in children's participation. The Canadian Journal of Children's Rights, 1 (1), 172–190.
Lee, N. (2001). Childhood and society. Growing up in an age of uncertainty. Open University Press.
Levinas, E. (1969). Totality and infinity. An essay on exteriority. Duquesne University Press & Martinus Nijhoff.
Ljungblad, A.-L. (2021). Pedagogical relational teachership (PeRT) – A multi-relational perspective. International Journal of Inclusive Education, 25 (7), 860–876.
Ljungblad, A.-L. (2023). The relational dimension of the teaching profession. Peter Lang.
Mansikka, J., & Lundkvist, M. (2022). Children's right to participation in early childhood education and care: An analysis in Finnish policy documents. The International Journal of Children's Rights, 30 (1), 232–257.
McIntyre, L. (2018). Post-truth. MIT Press.
Neas S., Ward, A., & Bowman, B. (2022). Young people's climate activism: A review of the literature. Front. Polit. Sci, 4 (940876), 1-13.
Olesen, T. (2022). Greta Thunberg's iconicity: Performance and co-performance in the social media ecology. New Media & Society, 24 (6), 1325-1342.
Pupavac, V. (2001). Misanthropy without borders: The international children's rights regime. Disasters, 25 (2), 95–112.
Quennerstedt A., & Quennerstedt, M. (2014). Researching children's rights in education: Sociology of childhood encountering educational theory. British Journal of Sociology of Education, 35 (1), 115–132.
Ranciére, J. (1999). Disagreement, politics and philosophy. University of Minnesota Press.
Rosanvallon, P. (2009). Demokratin som problem [Democracy as problem]. Tankekraft.
Rousseau, J.-J. (1991). Emile or on education. Penguin Classics.
Srivastava, A., Gamble, R., & Boey, J. (2013). Cyberbullying in Australia: Clarifying the problem, considering the solutions. International Journal of Children's Rights, 21 (1), 25–45.
Thunberg, G. (2019). No one is too small to make a difference. Penguin Books.
United Nations General Assembly. (1989). Convention on the Rights of the Child. United Nations Treaty Series, vol. 1577. United Nations.
UNICEF. (2007). Implementation handbook for the Convention on the Rights of the Child. Fully revised 3rd edition. In R. Hodgkin & P. Newell (Eds.). UNICEF.
UNICEF. (2014). The challenges of climate change. Children on the frontline. Innocenti Insight.
Waisboard, S., Tucker, T., & Lichtenheld, Z. (2018). Trump and the great disruption in public communication. In P. Boczkowski & Z. Paparcharissi (Eds.), Trump and the media. The MIT Press.
Welty, E., & Lundy, L. (2013). A children's rights-based approach to involving children in decision making. Journal of Science Communication, 12 (3), C02.
Yglesias, M. (2018). The case for Fox News studies. Political Communication, 35 (4), 681–683.
Yousafzai, M., & Lamb, C. (2013). I am Malala: The girl who stood up for education and was shot by the Taliban. Hachette.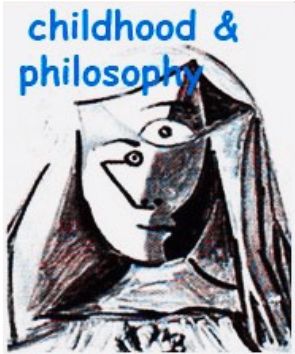 Downloads
How to Cite
ljungblad, ann- louise. (2023). greta thunberg — a unique voice in a post-truth era. Childhood & Philosophy, 19, 01–31. https://doi.org/10.12957/childphilo.2023.69835
License
copyright for each article published in childhood & philosophy belongs to its author(s). childhood & philosophy has the right of first publication. permission to reprint any article that appears in childhood & philosophy MUST be obtained in writing from the author(s). in addition to any form of acknowledgement required by the author(s), the following notice must be added to the statement of copyright permission made in the reprint (with the appropriate numbers replacing the ellipses): [Article Title] was originally published in childhood & philosophy, volume ..., number ..., pp. ...-...