from the need to question thought: child gestures on school time
Keywords:
childhood, time, education
Abstract
We present in this article a discussion about gestures produced from the childhood entry in the interface with the experience of school time. It is a discussion woven inside the center for studies and research in education in particular, the times group of the faculty of education of the federal university of Juiz de Fora/MG. Throughout history, time has been discussed in various ways and still is, as well as childhood, conceptually constructed as a result of social, political, religious, and cultural influences. In the attempt to "start thinking", we ask ourselves about what theoretical formulations have been based on childhood at the interface with school time in the field of education? We defend the central thesis that childhood, in a western cut, has been presented in productions still as social time. It is a recent movement to consider childhood as an event, experience, as opposed to the idea of childhood as the stage of life. As a result, considering infancy related to the tension between social time and time as intensity of the present, implies the need for pedagogical gestures that think this tension and, thus, consider the children of the current, narrowing their relations with the school, with knowledge and with life. To enlighten the issues sewn from our concerns, we chose authors such as Agamben, Leal, Bakhtin/Volochinov, Kohan, Vieira, Bento and Meneghel, Kramer, Borba, who focused on childhood and education. In order to problematize the time category, we dialogued with St. Augustine, Oliveira, Marques C. and Marques L, Skliar. The reading of our interlocutors and our listening with/to the school could subsidize the thought that we can invent ways not only imagined as possible with the perspective of reflecting time, childhood, experience and school on other bases. The interrogation, not the conviction, enables the sense of knowledge in the materiality of our practices, produced inside/outside the university. These are underprivileged subjects in curriculum matrices and disciplines that address the issue of children, their childhoods and temporalities.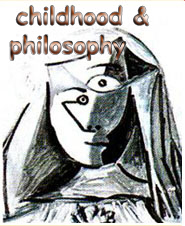 Downloads
How to Cite
marques, luciana pacheco, oliveira, cristiane elvira de assis, & santos, núbia schaper. (2018). from the need to question thought: child gestures on school time. Childhood & Philosophy, 14(30), 341–362. https://doi.org/10.12957/childphilo.2018.30310
License
copyright for each article published in childhood & philosophy belongs to its author(s). childhood & philosophy has the right of first publication. permission to reprint any article that appears in childhood & philosophy MUST be obtained in writing from the author(s). in addition to any form of acknowledgement required by the author(s), the following notice must be added to the statement of copyright permission made in the reprint (with the appropriate numbers replacing the ellipses): [Article Title] was originally published in childhood & philosophy, volume ..., number ..., pp. ...-...