thinking as two - philosophy, critical thinking, and community of inquiry
Keywords:
Philosophy for Children, Critical Thinking, Community of Inquiry, Philosophy
Abstract
Supporters of the philosophy for children movement often claim that philosophy is the ideal subject to teach children if we seek to improve their critical thinking. Claiming that only philosophy encompasses the whole of the critical thinking enterprise, and that it alone teaches meta-cognition, these proponents argue for its inclusion in both elementary and secondary school curricula. Yet, if we accept a mainstream description of critical thinking as an activity demanding both aptitude and disposition, the discipline of philosophy, independent of any particular pedagogy, does not offer the unique ability to improve either aspect of the critical thinker. Indeed, matched with the "wrong" pedagogy, the teaching of philosophy does nothing to encourage the disposition to think critically. The pedagogy of Community of Inquiry, however, does encourage such a disposition, even independent of its use in teaching philosophy. As a public model of the process of critical thinking, this pedagogy acts as the "training wheels" of the critical thinker, allowing the individual to both observe and participate in the process. The expectation of the educator is that exposure to the model will, in time, result in its internalization. While philosophy itself may not improve either critical aptitude or disposition, the nature of the discipline does uniquely enable efficient, productive, and extended practice of Community of Inquiry in an educational context. And it is this indirect link between philosophy and critical thinking, a link mediated by the pedagogy of Community of Inquiry, that should be cited by proponents of philosophy for children.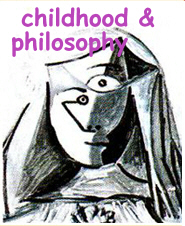 Downloads
How to Cite
fisherman, daniel. (2011). thinking as two - philosophy, critical thinking, and community of inquiry. Childhood & Philosophy, 6(12), pp.211–227. Retrieved from https://www.e-publicacoes.uerj.br/childhood/article/view/20544
License
copyright for each article published in childhood & philosophy belongs to its author(s). childhood & philosophy has the right of first publication. permission to reprint any article that appears in childhood & philosophy MUST be obtained in writing from the author(s). in addition to any form of acknowledgement required by the author(s), the following notice must be added to the statement of copyright permission made in the reprint (with the appropriate numbers replacing the ellipses): [Article Title] was originally published in childhood & philosophy, volume ..., number ..., pp. ...-...