a childhood, a silence, a learning gesture
Keywords:
gesto, estilização, cartografia, infância, política da atenção
Abstract
Scorched, a play written by the Lebanese dramatist Wadji Mouawad and published in French in 2003, suggests, beyond the singularity of a historical family context, an investigation about the relationship between gestures, ethics, politics and childhood. The analysis sets out two moments of the narrative to develop the discussions: a) the effects of the silence of Nawal´s character; b) the writing gesture that runs through the three generations of women. The paper is, therefore, organized according to three analytical levels. At first, regarding the gesture of silence, it explores the relationship between politicization and stylization, along with Giorgio Agamben's theoretical inspiration; secondly, following Gilles Deleuze and Felix Guattari's theoretical legacy, the paper examines the relationship between gesture and signs, in order to present a cartographic production of living. We state that the cartographic urgencies constitute a kind of labor of stylization and politicization of life forms, which requires an articulation between gestures and a political attention. Finally, the analysis approaches the issue of gestures in a learning perspective, pointing out the effects of such experience in order to understand childhood as a pervasive force capable of ubiquity anytime and anywhere. The paper concludes affirming the impersonality nature of gesture and its potency as a signature in the world.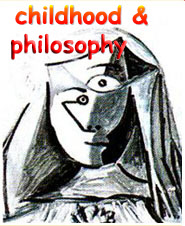 Downloads
How to Cite
ribeiro, cintya regina. (2016). a childhood, a silence, a learning gesture. Childhood & Philosophy, 12(23), 47–64. https://doi.org/10.12957/childphilo.2016.23419
License
copyright for each article published in childhood & philosophy belongs to its author(s). childhood & philosophy has the right of first publication. permission to reprint any article that appears in childhood & philosophy MUST be obtained in writing from the author(s). in addition to any form of acknowledgement required by the author(s), the following notice must be added to the statement of copyright permission made in the reprint (with the appropriate numbers replacing the ellipses): [Article Title] was originally published in childhood & philosophy, volume ..., number ..., pp. ...-...