BIOPHYSICAL PARAMETERS TO THE SURFACE BY ORBITAL REMOTE SENSING IN HYDROGRAPHIC BASIN OF THE BRAZILIAN SEMIARID
Palavras-chave:
Caatinga, Albedo, Vegetation dynamics, Energy balance, Agrometeorology.
Resumo
Introduction: The Brazilian semiarid region is characterized in many places by its negative water balance, irregular rainfall and the predominance of the Caatinga biome. Anthropic actions have impacted on changes in land use and threatened the Caatinga. In this way, remote sensing is a key tool for investigating environmental impacts, planning and making decisions about water and natural resources. Objective: The objective of this work was to monitor and evaluate biophysical parameters of the terrestrial surface in the dry period in the Brazilian semiarid hydrographic basin by remote sensing techniques. Methods: The study area selected was the hydrographic basin of the Exu stream, which is located in the semiarid Pernambuco. The development of the study took place through three orbital images provided by NASA/USGS, in which the Surface Energy Balance Algorithm for Land (SEBAL) was implemented. Results: Vegetation dynamics did not differ significantly between the images, independent if the year was dry, normal, or rainfall, because the response of vegetation growth occurs on a daily scale, depending on precipitation. In general, it was observed that the increase of the vegetation indices reflected in lower values for albedo and surface temperature. Conclusions: Remote sensing allowed the environmental monitoring of the hydrographic basin in the semiarid region, effectively assessing the environmental changes of the region, both in the face of local climate variations, and also through anthropic actions on land use and occupation.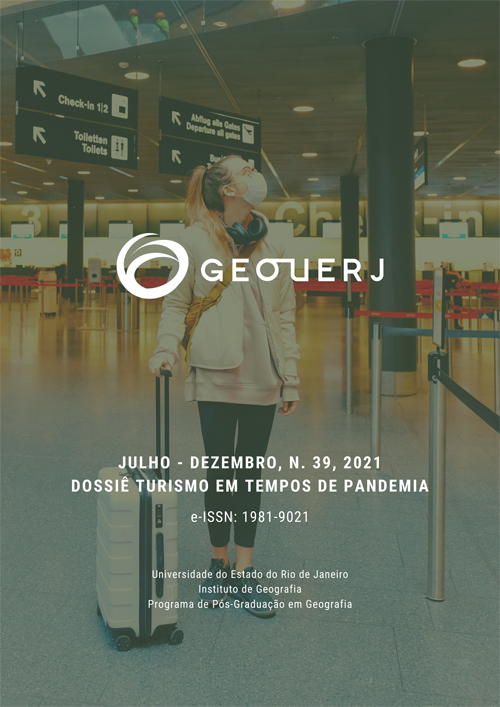 Downloads
Como Citar
Lins, F. A. C., Moura, G. B. de A., Lopes, P. M. O., Silva, J. L. B. da, Nascimento, C. R., & França e Silva, Ênio F. de. (2021). BIOPHYSICAL PARAMETERS TO THE SURFACE BY ORBITAL REMOTE SENSING IN HYDROGRAPHIC BASIN OF THE BRAZILIAN SEMIARID. Geo UERJ, (39), e39650. https://doi.org/10.12957/geouerj.2021.39650
Licença
Os Direitos Autorais dos artigos publicados na Revista Geo UERJ pertencem aos seus respectivos autores, com os direitos de primeira publicação cedidos à Revista. Toda vez que um artigo for citado, replicado em repositórios institucionais e/ou páginas pessoais ou profissionais, deve-se apresentar um link para o artigo disponível no site da Geo UERJ.

Os trabalhos publicados estão simultaneamente licenciados com uma Licença Commons BY-NC-SA 4.0.