HISTÓRIA FEMINISTA, GENEALOGÍAS QUEER
Palavras-chave:
teoria queer, pensamento feminista, identidade, sujeição
Resumo
Não existe uma trajetória histórica capaz de explicar, por si só, o surgimento de teorias queer no início dos anos noventa. Suas possíveis genealogias se estendem em múltiplas direções, dentro e fora dos limites da filosofia pós-estruturalista, dos estudos gays e lésbicos e, é claro, dos muros da academia. Apesar desta certeza, este artigo oferece uma genealogia, entre muitas possíveis, da crítica queer como um processo de fragmentação e proliferação de lutas e posições subjetivas, nas margens da política de identidade enraizada na história do pensamento e das políticas feministas.
Referências
AMORÓS, C. Tiempo de feminismo. Madrid: Ediciones Cátedra. 1997.
ANZALDÚA, G. Borderlands/La Frontera: The New Mestiza. San Francisco: Aunt Lute Books. 1987.
AUSTIN, J.L. How to Do Things with Words, The William James Lectures delivered at Harvard University in 1995. Oxford: Oxford at the Clarendon Press. 1962.
ASIAN WOMEN UNITED OF CALIFORNIA (Eds.). Making Waves: an Anthology of Writings by Asian American Women. Boston: Beacon Press. 1989.
BEAUVOIR, S. Le Deuxième sexe. París: Gallimard. 1949.
BULKIN, E., SMITH, B. (Eds.). Yours in Struggle: Three Feminist Perspectives on Anti-semitism And Racism. Nueva York: Firebrand Books. 1984.
BUTLER, J. Gender Trouble: Feminism and Subversion of Identity. London and New York: Routledge. 2002.
CADY, E. La biblia de la mujer. Madrid: Cátedra, 1997 (The Women´s Bible. Boston: Northeastern University Press. 1993).
CERECEDA, M. El origen de la mujer sujeto. Madrid: Tecnos. 1996.
CRENSHAW, K. "Demarginalizing the Intersection of Race and Sex: A Black Feminist Critique of Antidiscrimination Doctrine, Feminist Theory, and Antiracist Politics". Weisberg, Feminist Legal Theory: Foundations (pp. 17-29). Philadelphia: Temple University Press. 1993.
DE LA VIEJA. T. La mitad del mundo: Ética y crítica feminista. Salamanca: Ediciones Universidad de Salamanca. 2004.
DERRIDA J. Marges de la philosophie. Paris: Les Éditions de Minuit París. 1972.
EISENSTEIN, Z. "Hacia el desarrollo de una teoría del patriarcado feminista y el feminismo socialista. Eisenstein". Patriarcado feminista y feminismo socialista. Madrid: Siglo XXI. 1980.
ENGELS, F. The Origin of the Family, Private Property and the State. Chicago: Charles H. Kerr & Co. 1909.
FIRESTONE, S. The Dialectic of Sex. Londres: The Women's Press, 1979.
FOUCAULT, M. La voluntad de saber. Buenos Aires: Siglo XXI. 2005 (La volonté de savoir, Gallimard, París, 1976).
FRASER, N. Justice Interruptus: Critical Reflections on the "Postsocialist" Condition. New York: Routledge. 1995.
FRIEDAN, B. La mística de la feminidad, Madrid: Júcar. 1974 (The Feminine Mystique. Nueva York: W.W. Norton and Company Inc., 1963).
GOLDMANN, E. Woman Suffrage. Emma Goldman's Anarchism and Other Essays. New York & London: Mother Earth Publishing Association, p. 201-217, 1911.
GUERRA, M.J. ¿Subvertir o situar la identidad?, sopesando las estratégias feministas de Judith Butler y Sheila Benhabib. Daimon, Revista de Filosofía, p. 14, 143-154, 1997.
HARTMAN, H. Un matrimonio mal avenido: hacia una unión más progresiva entre marxismo y feminismo. Zona Abierta, 24, p. 85-114, 1980.
HOOKS., B. Ain´t I a Woman: black women and feminism. Cambridge: South End Press, 1981.
HULL, G., BELL, P., SMITH, B. All the Women Are White, All the Black Are Men, But Some of Us Are Brave. Nueva York: The Feminist Press, 1982.
KELLY-GADOL, J. Early Feminist Theory and the 'Querelle des Femmes': 1400-1789. Signs, 8 (1), p. 4-28, 1982.
KELLY-GADOL, J. ¿Tuvieron un renacimiento las mujeres. Amelang, James, Nash, Historia y Género: las mujeres en la Edad Moderna y Contemporánea (pp. 93-125). Valencia: Dpto. De Historia del Arte. 1990 (Kelly-Gadol, Did Women Have a Renaissance?. Bridenthal, Koonz, Becoming Visible: Women in European History. Boston: Houghton Mifflin, p. 137-163, 1977.
LAURETIS, T. Introduction, Queer Theory: Lesbian and Gay Sexualities. An Introduction. Differences: a Journal Of Feminist Cultural Studies, 3 (2), III-XVII. 1991.
LUGONES, M. Colonialidad y género. Tabula Rasa, 9, p. 73-101, 2008.
MILL, S. La sujeción de la mujer. Rossi, Ensayos sobre la igualdad sexual. Barcelona: Península, p. 155-288, 1973.
MILLET, K. Sexual Politics. New York: Doubleday and Co. 1970.
MORAGA, Ch., CASTILLO, A. Este puente mi espalda: Voces de mujeres tercermundistas en los Estados Unidos. San Francisco: ISM Press. 1988 (This bridge called my back: Writings by Radical Women of Color. New York: Kitchen Table: Women of Color Press. 1981).
OLIVEIRA, J. M. O rizoma 'género': cartografia de três genealogias, e-Cadernos CES, 15, p. 33-54, 2012.
PATEMAN, C. El contrato sexual. Barcelona y Iztapalapa: Anthropos. 1995.
PÉREZ NAVARRO, P. Del texto al sexo. Judith Butler y la performatividad. Madrid: Egales, 2008.
PÉREZ NAVARRO, P. Activismo y disidencias queer. Cuadernos del Ateneo, 26, p. 75-82, 2009.
PÉREZ NAVARRO, P. Parodias de la parodia en Martha Nussbaum y Celia Amorós. Soley-Beltrán, Sabsay, Judith Butler en disputa. Lecturas sobre la performatividad. Madrid: Egales, p. 27-58, 2012.
RICH, A. La heterosexualidad obligatoria y la existencia lesbiana. Navarro, Stimpson. Sexualidad, género y roles sexuales. México: Fondo de la Cultura Económica, p. 159-211, 1986. (Compulsory Heterosexuality and Lesbian Existence. Abel, The Signs Reader: Women, Gender and Scholarship. Chicago: University of Chicago Press, p. 139-168, 1983.
RORTY, R. Contigencia, ironía y solidaridad. Barcelona y Buenos Aires: Paidós. 1991.
RUBIN, G. Sexual Traffic. Differences: A Journal of Feminist Cultural Studies, 6 (3), 62-99, 1994.
RUBIN, G. Reflexionando sobre el sexo: notas para una teoría radical de la sexualidad. Vance, Placer y peligro: explorando la sexualidad femenina. Madrid: Talasa, p. 113-190, 1989.
ROWBOTHAM, S. La mujer ignorada por la historia. Madrid: Debate. 1980.
SCOTT, J. The evidence of experience. Critical Inquiry, 7 (4), p. 773-797, 1991.
SEDGWICK, E. Epistemology of the Closet. Berkeley: Berkeley University of California Press, 1990.
SMITH, B. Home Girls: A Black Fem Anthology. Nueva York: Kitchen Table: Women of Color Press, 1983.
SPELMAN, E. Inessential Woman: Problems of Exclusion in Feminist Thought. Boston: Beacon Press. 1988.
SPIVAK, G. Can the Subaltern Speak? Speculations on Widow-Sacrifice. Wedge, 8, p. 120-130, 1985.
TORTON, E. Nice Jewish Girls: A Lesbian Anthology. Watertown: Persephone Press, 1982.
TRISTÁN, F. La unión obrera. Barcelona: Debarris, 2006.
WITTIG, M. No se nace mujer. El pensamiento heterosexual y otros ensayos: Monique Wittig. Madrid: Egales, p. 31-45, 2006. (The Straight Mind and other essays. Boston: Beacon Press, 1992).
WOLLSTONECRAFT, M. Vindicación de los derechos de la mujer. Madrid: Istmo. 2005.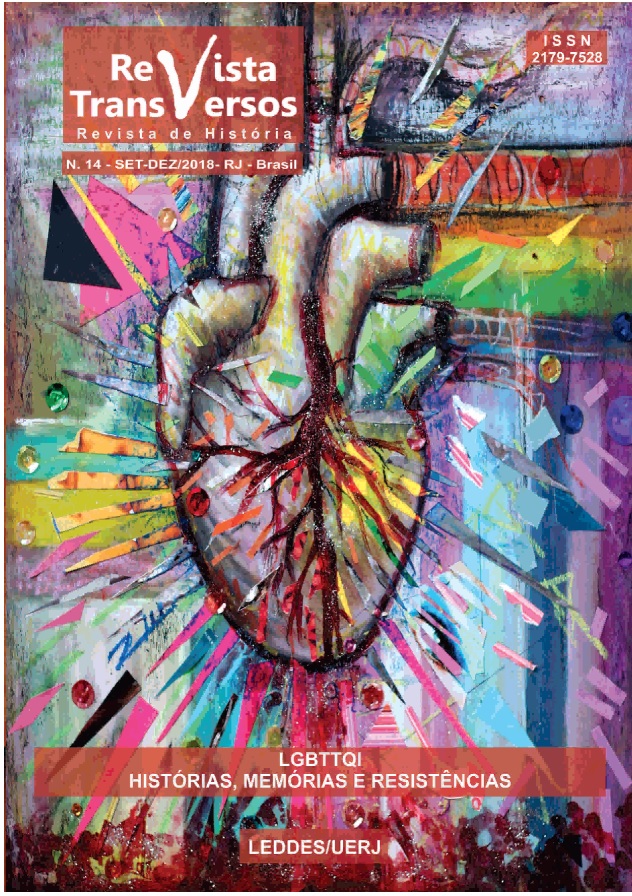 Downloads
Seção
EXPIRADO - Artigo para dossiê
Licença
Autores que publicam na Revista Transversos concordam com os seguintes termos:
Autores/as mantém os direitos autorais e concedem à Revista Transversos o direito de primeira publicação, com o trabalho simultaneamente licenciado sob a Creative Commons Attribution-NonCommercial-NoDerivatives 4.0 International que permite o compartilhamento do trabalho com reconhecimento da autoria e publicação inicial nesta revista.
Autores/as têm autorização para assumir contratos adicionais separadamente, para distribuição não-exclusiva da versão do trabalho publicada nesta revista (ex.: publicar em repositório institucional ou como capítulo de livro), com reconhecimento de autoria e publicação inicial nesta revista.
Autores/as têm permissão e são estimulados a publicar e distribuir seu trabalho online (ex.: em repositórios institucionais ou na sua página pessoal) após o processo editorial, com a finalidade de aumentar o impacto e a citação do trabalho publicado. Neste caso, você deverá fornecer o crédito apropriado e um link do repositório original.