ORIGINAL RESEARCH
Nursing diagnoses and interventions for a neonate with Donohue Syndrome (Leprechaunism): a case study
Ludmilla Ferraz de LucenaI; Adriana Teixeira Reis II; Bárbara Bertolossi Marta de AraújoIII; Sandra Teixeira de Araújo PachecoIV ; Raquel de Farias Vieira MagalhãesV.
I Nurse. Resident of the Neonatology Program, University Hospital Pedro Ernesto. Rio de Janeiro, Brazil. E-mail: ludmillaflucena@hotmail.com
II Nurse. Ph.D. in Nursing. Adjunct Professor of the Nursing School, Rio de Janeiro State University. Brazil. E-mail: driefa@terra.com.br
III Nurse. Ph.D. in Nursing. Adjunct Professor of the Nursing School, Rio de Janeiro State University. Brazil. E-mail: betabertolossi@gmail.com
IV Nurse. Ph.D. in Nursing. Adjunct Professor of the Nursing School, Rio de Janeiro State University. Brazil. E-mail: stapacheco@yahoo.com.br
V Nurse. Resident of the Neonatology Program, University Hospital Pedro Ernesto. Rio de Janeiro, Brazil. E-mail: raquel.unipli@gmail.com
DOI: http://dx.doi.org/10.12957/reuerj.2017.20387
---
ABSTRACT
Objective: to identify the nursing diagnoses of a neonate with Donohue Syndrome and to list the outcomes of related nursing interventions. Method: in this descriptive, retrospective case study at a university hospital in Rio de Janeiro, data were obtained from the patient's medical chart in 2015, after approval of the research project by the Research Ethics Committee (Opinion No. 1.021.084). Data were analyzed using the nursing diagnoses and interventions of the North American Nursing Diagnosis Association taxonomy and classification of nursing interventions. Results: four actual diagnoses emerged: hypothermia, ineffective respiratory pattern, acute pain, and impaired comfort; and six risk diagnoses: unstable glycemia, fluid volume imbalance, infection, skin integrity, impaired binding, and developmental delay. Interventions were planned to contemplate the biological needs most affected. Conclusion: evaluation of the neonate with technical and scientific competence based on the real and risk diagnoses collaborated towards effective and efficacious nursing practice.
Keywords: Neonatal nursing; Donohue Syndrome; newborn; neonatal intensive care units.
---
INTRODUCTION
Donohue Syndrome or leprechaunism, an autosomal recessive disease that is transmitted congenitally, is associated with a mutation of the insulin receptor gene in the short arm of chromosome 19. Most patients with Donohue's syndrome die prematurely. Regarding treatment, studies have been developed, but treatment options for leprechaunism are still very limited with more experience being needed to establish their safety and efficacy 1,2.
In order to prepare nurses for the planning and care of these children and families, there is interest in expanding knowledge about the disease and the nursing care provided.
Thus, the guiding question of this study was 'which diagnoses and nursing interventions are made in the neonatal intensive care unit (NICU) for the newborn diagnosed with Donohue's syndrome?'
To understand the disease better, the Virtual Health Library and PubMed databases were searched using the following keywords: Donohue Syndrome and leprechaunism. Only 23 articles were found that address the diagnosis, epidemiology and clinical treatment of the disease. The most important of the publications were the articles "Leprechaunism: a euphuism for a rare familial disorder"3 which was the first to describe the disease and "A syndrome of insulin resistance resembling Donohue Syndrome with patent ductus arteriosus" 4 which addresses the chromosomal alteration of carriers and patients who express the syndrome. However, no study was found in these databases that discussed nursing care for the infant diagnosed with this syndrome.
Therefore, this article aimed to identify the nursing diagnoses of a newborn with Donohue Syndrome and to list the results of nursing interventions proposed for the neonate.
THEORETICAL REFERENCE
This study adopted the theoretical support of Basic Human Needs5 , the North American Nursing Diagnosis Association Diagnostic Taxonomy (NANDA) and the Nursing Interventions Classification (NIC) to interpret empirical data 6,7.
The nursing process is established as a conceptualized, authentic and widely applied tool in the systematization of human care, which enables nurses to organize and administer the care they provide. It aims to encourage a humanized approach directed to results, and leads the professional to evaluate the nursing practice frequently differentiating his/her performance from that of other professionals. It consists of five interrelated stages: investigation, diagnosis, planning, implementation and evaluation 8,9.
The description of each diagnostic component to be tested with its respective operational definitions should be considered, indicating what will be evaluated and how. These procedures also apply to interventions and nursing outcomes 10.
Interventions are based on clinical judgment and scientific knowledge and aim to improve the results obtained by the patient after the nursing actions. Comprised of activities to be performed, they provide a standard language so that nurses can describe what they do, document specific actions, facilitate teaching and decision making, promote health, evaluate and improve patient care, and promote research and the development of nursing knowledge7.
METHODS
A descriptive retrospective study was carried out of an intrinsic case study using document analysis. The data were collected in May 2015 by examining the records of a patient diagnosed with Donohue's Syndrome treated one year previously at a university hospital, a referral center for high-risk pregnant women in the city of Rio de Janeiro. This unit has 14 beds in the NICU and eight beds in the intermediate care unit. It has resources to care for premature infants and newborns with congenital anomalies, hyaline membrane disease, neuropathies and heart diseases, among other conditions.
A framework structured by the authors of the study systematized data collection. It was initially aimed at identifying and grouping data related to the maternal history. Subsequently, data regarding the newborn were collected and organized month by month for the eight months of hospitalization. Successively, the results of exams performed on the first day of the newborn's life and the evolution of day and night nursing care in the first 24 hours were studied.
In relation to the ethical aspects of research involving human beings based on medical records, a commitment term was used to consult data thereby guaranteeing disclosure of the results with preservation of the patient's anonymity. Data collection began after the research project was approved by the Ethics Research Committee of the institution (# 1.021.084).
Data analysis was based on definitions and classifications of NANDA6 and the NIC7.
RESULTS
History of mother and child
F.M.S.A., a 27-year old, declared that she was not an alcoholic, smoker or drug user. Her tests were negative for venereal disease research laboratory (VDRL) and human immunodeficiency virus (HIV). It was her first gestation, first delivery and she had never had a miscarriage. She had four prenatal consultations in a maternity unit for high-risk pregnancies.
The baby, in pelvic presentation, was born by cesarean delivery on 3/28/2014 at 37 weeks plus 6 days by ultrasonography and 38 weeks plus four days by date of last menstruation. The male infant weighed 945 grams at birth and had an Apgar score of 6/8. Moreover, the newborn presented with fetal malformations (hydrocephalus and pericardial effusion) diagnosed by prenatal ultrasonography and external malformations (skull deformity with prominent occiput, overriding sutures with a wide anterior fontanelle, small eyelid cleft, flat nasal bridge, protruding eyes, relatively large ears, protruding nipples, hands with thumb adduction, prominent calcaneus with triggering hallux and diminished adipose tissue). The baby had late diagnosis of homozygous leprechaunism by karyotype examination.
The patient was admitted to the NICU, where he remained for eight months until his death on 12/18/2014. During the course of his treatment, he required continuous positive airway pressure (CPAP), an oxygen catheter and orotracheal intubation. Likewise, he received diet by orogastric and nasoenteral tubes. He received several different procedures to provide accesses for parenteral infusions such as a venous umbilical catheter, peripherally inserted central catheter (PICC line), venous dissection and peripheral venous access. He also needed a delayed bladder catheter.
Due to the unfavorable prognosis associated with the syndrome, the infant remained without satisfactory weight gain and with variations in glycemia from less than 20 mg/dL to above 500 mg/dL.
He developed several infections requiring the use of various antibiotics and medications including barbiturates, vitamins, and diuretics. Red blood cells and fresh plasma were transfused for anemia.
Other clinical manifestations included hypothermia and hyperthermia, relief of intestinal loops, bloody gastric residual, positive catalase levels, cholestasis, rectal prolapse, seborrheic dermatitis, skin lesions, anuria and convulsions. The patient evolved to death due to multiple organ failure, severe malnutrition and hyperinsulinism after a comatose period unresponsive to treatment.
Evolution of nursing the neonate during the first 24 hours of life
The newborn was admitted to the NICU in a heated incubator and transferred to a radiant heat unit, breathing in ambient air with breathing effort. The patient was pale, cyanotic, hydrated, anicteric, eupneic, hypothermic, mucosae with color and moist, retraction of the malformed head/skull, eyes semi-closed, distended abdomen, tense and loose intestinal loops, slightly sore (according to the child's reaction), increased hydro-aerial sounds at auscultation, umbilical stump with minor bleeding and intact male genitalia. The infant had a peripheral venous access in left arm and venous umbilical catheter with venous hydration at 2.3 mL/h and total parenteral nutrition at 1.1 mL/h, amino acids at 1.1 mL/h. He was being ventilated at 21% CPAP with positive end-expiratory pressure (PEEP) of 5 cmH2 O. Diuresis and evacuation were present at that time.
Diagnoses, nursing interventions and results
After organizing and systematically analyzing the data collected from the patient's records, in view of the priority needs that could influence the patient's evolution, ten nursing diagnoses were identified according to NANDA 6, four of which were real diagnoses and six were diagnoses of risk.
The four real diagnoses were hypothermia related to the low reserve of adipose tissue and immaturity of thermal regulation; ineffective respiratory pattern related to impaired respiratory mechanics; acute pain related to invasive procedures and the expression of the newborn during abdominal palpation; and impaired comfort related to harmful environmental stimuli (light, noise etc.) and treatment-related side effects. Thus, the following nursing interventions were used: the newborn was warmed-up, ventilation was monitoring for normoxemia; analgesia was provided and pain control measures were evaluated and comfort was provided by a safe and clean environment (Figure 1).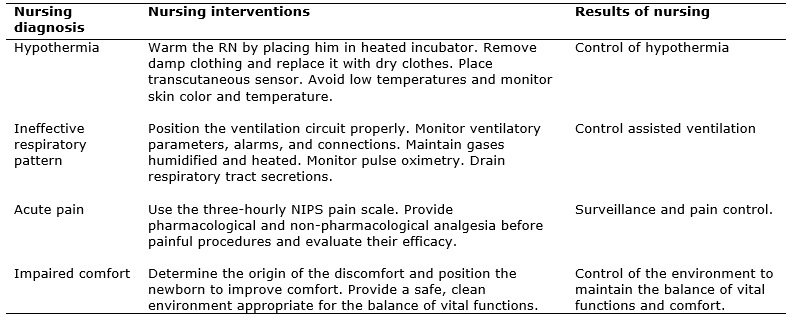 FIGURE 1: Real nursing diagnoses, nursing interventions and results in a newborn with Donohue Syndrome. Rio de Janeiro, 2015
The six diagnoses of risk were unstable glycemia risk related to the capillary glycemia results; risk of fluid volume imbalance related to the administration of parenteral infusions; risk of infection, due to the prematurity of the immunobiological system, invasive procedures and increased environmental exposure to pathogens; risk of impaired skin integrity, related to extreme low weight, immature skin, use of abrasive solutions and adhesive tape; risk of impaired bonding related to the newborn's stay in the NICU and his syndromic characteristics; and risk of developmental delay related to the syndrome. The following interventions were used: blood glucose level monitoring to ensure normoglycemia; careful fluid monitoring for body water balance; hygienic care and universal precautions; use of measures to prevent skin lesions and promotion of the parental bond (Figure 2).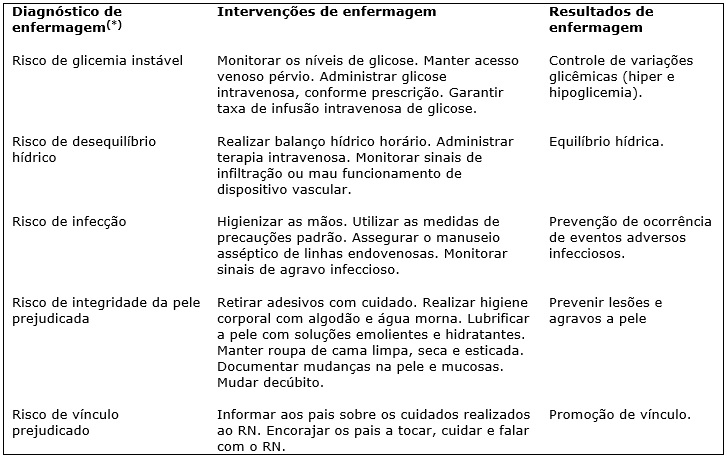 (*) O sexto diagnóstico refere-se ao atraso no desenvolvimento, decorrente da síndrome, exigindo assistência intensiva, continua e de qualidade.
FIGURE 2: Diagnósticos de risco, resultados e intervenções de enfermagem identificados no RN portador da Síndrome de Donohue. Rio de Janeiro, 2015
DISCUSSION
Knowledge generated from studies on nursing diagnoses provides the scientific basis necessary for planning care in different population groups. There are few studies that support the clinical practice of the nurse, particularly in the neonatal population 11.
Donohue syndrome involves a series of neonatal health risks and nurses should be aware of subtle signs that can generate serious health problems for infants in the NICU.
Neonatal hypothermia, referred to as the first nursing diagnosis, is described as a body temperature below 36.5 °C. This diagnosis is related to the immaturity of thermal regulation characteristic of newborns and is aggravated, in this case, by the diminished adipose tissue associated with Donohue's Syndrome 12. In healthy newborns, adipose tissue is the main mechanism of thermal protection and thermoregulation as it is a source of metabolic heat production. The neonate with Donohue syndrome, due to a lack of adipose tissue, is more susceptible to hypothermia 13. Interventions such as heating the infant using a heated incubator or radiant heat, removing wet clothes and installing a transcutaneous sensor to monitor skin temperature are essential measures to ensure neonatal normothermia 14-16.
The diagnosis of ineffective respiratory pattern is defined as inspiration and/or expiration that does not provide adequate ventilation. This diagnosis is related to impaired ventilatory mechanics of the newborn. Since Donohue syndrome has numerous hemodynamic repercussions, including cardiomyopathy, polyuria, uremia and ketoacidosis, changes in the neonatal ventilatory pattern are present and require supportive oxygen therapy 17,18.
In this way, nursing care should provide adequate ventilation and oxygenation. Monitoring parameters, alarms, ventilator connections and maintaining humidified and heated gases are precautions that must be taken to prevent any imbalance during the use of supportive ventilatory therapy 18.
The diagnoses of acute pain and impaired comfort are related to hospitalization in the NICU and to the numerous manipulations and procedures to which the infant is submitted. Neonatal pain should be prevented by all health professionals working with neonates, since repeated painful exposure has potentially deleterious consequences 19. Providing comfort to the newborn in the NICU should be a goal of the nursing team and of all health professionals working in the NICU. Comfort is a measure of humanization and provides better therapeutic conditions during the hospitalization of the newborn 20.
The diagnosis of risk of unstable glycemia, both hypoglycemia and hyperglycemia, occurs in the syndrome due to the defect in chromosome 19, which leads to insulin resistance 2. In this case, the infant presented very large variations in blood sugar, necessitating corrections by the infusion of glucose or a continuous insulin drip. Nurses can ensure adequate glycemic control by monitoring capillary glucose with hourly observation of the permeability of venous access, together with monitoring the body water balance. These measures aim to guarantee an adequate rate of intravenous glucose infusion 21.
These newborns present excessive insensitive losses and require large amounts of calories and liquids to maintain their growth 13. This newborn had polyuria and signs of dehydration, typical of the syndrome, necessitating venous infusions for hydroelectrolytic control 17.
The risk of infection is present during the entire period of hospitalization of newborns in the NICU due to the numerous invasive procedures to which they are submitted 22. The newborn of this case report presented multiple risk factors for infection, such as age, presence of a rare and potentially fatal disease, use of medium-term and long-term catheters (urinary and central venous catheters) and mechanical ventilation. This requires careful control of protective measures against infection by the nursing team and all health professionals involved 23. The use of standard precautions such as hand hygiene, guaranteeing the aseptic handling of intravenous lines, monitoring signs of infectious disease and conducting environmental control measures are strategies that ensure good practice in the NICU environment 24.
The diagnosis of impaired skin integrity is present in any newborn that is hospitalized in a NICU, due to being bedridden, using sedative drugs and use of a ventilatory prosthesis. The impossibility of maintaining a decubitus position, typical of an active newborn, creates the risk of pressure and shear injuries 25. The use of catheter fixings, tubes, catheters and nasal CPAP also contribute to the risk of adhesive tape and pressure lesions. The preservation of skin integrity directly affects the human metabolism, especially in children and newborns 26-28.
The risk of impaired bonding with the mother was present in this case due to the phenotypic expression of the syndrome and the severity of the case. In the daily care of this newborn, the nursing staff perceived this very clearly; the family was absent for weeks and it was necessary to contact the Social and Psychological Services. Even with difficult-to-manage social issues such as the presence of another child, their residence far from the hospital and the reserved prognosis of the newborn, the mother, after contact by these support services, began to visit the newborn regularly 29.
CONCLUSION
Given the results obtained and reflections, it was possible to identify, through an analysis of the medical records, the diagnoses and most important interventions within the first 24 hours of life of this newborn with Donohue Syndrome.
The nursing actions proposed by the Basic Human Needs Theory, NANDA and the NIC allowed the design of a model identifying the biological needs that were most affected.
As the prognosis of the neonate with Donohue Syndrome generally courses to death, it is fundamental that nursing professionals are prepared with a plan of care aiming at the child's well-being during hospitalization.
The application of this light technology helps to develop knowledge, favoring effective nursing practice.
A limit of this article is the fact that this is a case study and presents individualized results that cannot necessarily be generalized. However, given that the syndrome is rare, it is expected that the findings may be applicable to other cases, contributing to a directed and specific nursing care for this type of diagnosis.
Considering the lack of publications about nursing related to this issue, it is expected that further research will be carried out to substantiate the care of nursing professionals.
REFERENCES
1. Sánchez-Hernández RM, Martín-Frías M, Castaño L, Lamas A, Barrio R. Síndrome de Donohue. Resistencia extrema a la insulina en el periodo neonatal. Endocrinol Nutr. 2016; 63(1):45-6.
2. Weber DR, Stanescu DE, Semple R, Holland C, Magge SN. Continuous subcutaneous IGF-1 therapy via insulin pump in a patient with Donohue Syndrome. J Pediatr Endocrinol Metab. 2014; 27(11-12):1237-41.
3. Donohue WL, Uchida IA. Leprechaunism: a euphuism for a rare familial disorder. J Pediat. 1954; 45(1): 505-19.
4. Li W, Mai R. A syndrome of insulin resistance resembling Donohue syndrome with patent ductus arteriosus. Clin Lab. 2014; 60(2):315-7.
5. Souza TL, Trindade TRO, Mendonça AEO, Silva RAR. Changes in basic human needs in patients after renal transplantations: a cross-sectional study. Online braz j nurs. 2016; 15(2): 265-75.
6. Herdman TH & Kamitsuru S. NANDA International Nursing Diagnoses: Definitions & Classification 2015–2017. 6th Ed. Oxford: Wiley Blackwell; 2014.
7. Medeiros AL, Santos SR, Cabral RWL, Silva JPG, Nascimento NM. Assessing nursing diagnoses and interventions in labour and high-risk pregnancies. Rev Gaúcha Enferm. 2016;37 (3): 1-9.
8. Santos LF, Oliveira LMDAC, Montefusco SRA, Barbosa MA. Nursing diagnoses and interventions in families of hospitalized children. Rev enferm UERJ. 2016; 24(4): e8253.
9. Hagos F, Alemseged F, Balcha F, Berhe S, Aregay A. Application of nursing process and its affecting factors among nurses working in Mekelle Zone Hospitals, Northern Ethiopia. Nursing Research and Practice. [internet] 2014[cited 2017 Mar 18]: 1-8. Available from: https://www.hindawi.com/journals/nrp/2014/675212/cta . doi:10.1155/2014/675212.
10. Silva MB, Almeida MA, Panato BP. Clinical applicability of nursing outcomes in the evolution of orthopedic patients with Impaired Physical Mobility.Rev Latino-Am Enfermagem. 2015; 23(1): 51-8.
11. Avena MJ, Pedreira MLG, Avena MJ, Pedreira MLG, Gutiérrez MGR. Validação conceitual das características definidoras de diagnósticos de enfermagem respiratórios em neonatos. Acta Paul Enferm. 2014; 27(1):76-85.
12. Silva VM, Lopes MV, Araujo TL, Beltrão BA, Monteiro RP, Cavalcante TF, et al. Operational definitions of outcome indicators related to ineffective breathing patterns in children with congenital heart disease. Heart Lung. 2011; 40(3):70-7.
13. Ministerio da Saúde (Br). Secretaria de Atenção à Saúde. Departamento de Ações Programáticas e Estratégicas. Atenção à saúde do recém-nascido: guia para os profissionais de saúde 4. Brasília (DF): Ministério da Saúde; 2011.
14. Verklan MT, Walden M. Core curriculum for neonatal intensive care nursing. 5th ed. St. Louis (MO): Elsevier; 2015.
15. Joseph RA, Derstine S, Killian M. Ideal Site for skin temperature probe placement on infants in the NICU: a Review of literature. Adv Neonatal Care. 2017; 17(2): 114-22.
16. Rolim KMC, Araújo AFPC, Campos NMM, Lopes SMB, Gurgel EPP, Campos ACS. Cuidado quanto à termorregulação do recém-nascido prematuro: o olhar da enfermeira. Rev Rene. 2010; 11(2): 44-52.
17. Odeh R, Alassaf A, Al-Qudah AA. Donohue Syndrome: a new case with a new complication. J Pediatr Endocr Met. 2015; 28(7-8): 951–4.
18. Gonçalves RL, Tsuzuki LM, Carvalho MGS. Aspiração endotraqueal em recém-nascidos intubados: uma revisão integrativa da literatura. Rev Bras Ter Intensiva. 2015; 27(3): 284-92.
19. Committee on fetus and newborn and section on anesthesiology and pain medicine. Prevention and management of procedural pain in the neonate: an update. Pediatrics. [internet] 2016 [cited 2016 Dec 18] 137(2); Available from: http://pediatrics.aappublications.org/content/pediatrics/137/2/e20154271.full.pdf .
20. Costa R, Cordeiro RA. Discomfort and pain in the newborn: reflections of neonatal nursing. Rev enferm UERJ. Rio de Janeiro. 2016; 24(1): e11298.
21. Pettit J. Assessment of an infant with a peripheral intravenous device. Adv Neonatal Care. [internet] 2003 [cited 2016 Dec 18]; 3(5). Available from: http://www.medscape.com/viewarticle/464019_6 .
22. Agência Nacional de Vigilância Sanitária (Br). Medidas de prevenção de infecção relacionada à assistência à saúde. Brasília (DF): Anvisa; 2017.
23.Ministério da Saúde (Br). Agência Nacional de Vigilância Sanitária. Fiocruz. Protocolo para a prática de higiene das mãos em serviços de saúde. Brasília (DF): ANVISA; 2013.
24.Ministério da Saúde (Br). Agência Nacional de Vigilância Sanitária. Investigação de eventos adversos em serviços de saúde. Brasília (DF): ANVISA; 2013.
25.Vieira CPB, Oliveira EWF, Ribeiro MGC . Ações preventivas em úlceras por pressão realizadas por enfermeiros na atenção básica. J res: fundam care Online [internet] 2016 [cited on 2016 Mar 18]; 8(2):4447-59. Available from: http://seer.unirio.br/index.php/cuidadofundamental/article/view/4617/pdf_1898
26. Ferreira AM, Rocha EN, Lopes CT, Bachion MM, Lopes JL, Barros ALBL. Nursing diagnoses in intensive care: cross-mapping and NANDA-I taxonomy. Rev Bras Enferm. 2016; 69 (2):285-93.
27. Nascimento RR, Landim TMA. Cuidados de enfermagem na prevenção de lesões e pele no recém-nascido prematuro. Rev Eletrôn Atualiza Saúde. 2016; 4(4): 66-73.
28. Migoto MT, Souza SNDH, Rossetto EG. Skin lesions of newborns in a neonatal unit: descriptive study. Online braz j nurs [Internet]. 2013 [cited 2016 Mar 18]; 12 (2): 377-92. Available from: http://www.objnursing.uff.br/index.php/nursing/article/view/4042
29. Roecker S, Mai LD, Baggio SC, Mazzola IC, Marcon SS. The experience of mothers of babies with malformation. Esc Anna Nery. 2012; 16 (1):17-26.
Direitos autorais 2017 Ludmilla Ferraz de Lucena, Adriana Teixeira Reis, Bárbara Bertolossi Marta de Araújo, Sandra Teixeira de Araújo Pacheco, Raquel Farias Vieira Magalhães

Esta obra está licenciada sob uma licença
Creative Commons Atribuição - Não comercial - Sem derivações 4.0 Internacional
.